Shake it.
Slowly you slide the tin out of your
pocket. Your pooch is none the wiser, that
wonderful aroma is locked inside.
And then you shake it…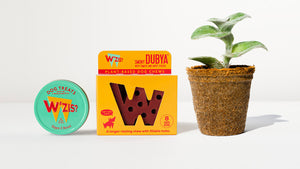 Treat me nice, treat me good…
Fank you very much Elvis for your wise words.
Like the King, we're not perfect, but we are trying to be the best we can be. Already 99% plastic free, the last pesky 1% is a challenge, but we'll get there. Our tins are refillable and infinitely recyclable. Whilst the UK lags much of the world in its recycling capabilities, at least we can do curbside collections of cardboard. Last but not least we're proud to be plant based. Kinder to animals and the planet. Less water, less carbon and less land. A healthy, low calorie, dog treat alternative.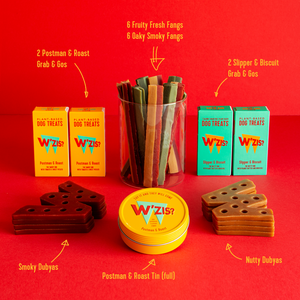 Treat Buster
New Tins
Triple Tin Value Bundle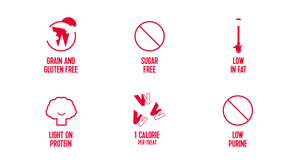 Plant-based. Healthy and awesome
See why our vegan dog treats are more than just part of the plant-based revolution bandwagon. The nutritional makeup of W'ZIS means they are a suitable treat for dogs with a variety of dietary needs.
Learn more
He absolutely loves these. Always grabs one and runs off to enjoy in private! One of his favourite chews.....and he's tried ALOT!
Jess Roberts
I was worried our dog wouldn't go for non-meat treats, but wanted to try meat free option. She loves them, we love the tin, and love the refill option :)
Matt Adams
This one has been a big hit with my dog and he loves this flavour - nice strong meaty smell and so useful for training treats. Loads in a tin so they are very economical.
Deanna Nicholson