The Big W'huna Bundle
Regular price
£45.00
Sale price
£51.75
Tax included
Shipping calculated at checkout
Free shipping on all orders over £19.50
Dispatched within one working day
Wahuuuu-na! Show 'em who's boss (the dog, obviously) with our biggest and best value bundle.
If your dog can't get enough of W'ZIS, stock up 'n' save on a big ol' variety box of dog treats and chews.
You'll get a grand total of 16 Dubyas, 24 Fangs and 600 treats to keep filling up your tin.

That's a whole lotta treats. What a good dog.
Variety is the spice of life
6 Mixed Refill Pack
8 Smoky Dubyas
8 Nutty Dubyas
12 Smoky Dental Fangs
12 Fruity Fresh Dental Fangs

Save over 10%
Where can I buy W'ZIS?
How many calories are in your treats?

Our small 'W' treats are just 1 calorie each meaning you can reward generously.
Are your treats suitable for dogs with dietary issues?

You will always need to consult your vet if in doubt but generally our treats are popular with dog owners whose pooches have allergies, kidney issues or other sensitivities too food.
How do you pronounce W'ZIS? 

"What's this?" It is what most hoomans say when they treat their dog. It is the treat name that dogs have already heard of.
Can I give W'ZIS treats to my puppy?

We recommend you wait for your pup to reach 4 months (16 weeks).
How long is the shelf life?

We recommend consuming W'ZIS products within 6 weeks of opening as the appealing aroma (to dogs) will start to fade. Due to the very low moisture content, a sealed W'ZIS product will last up to 36 months.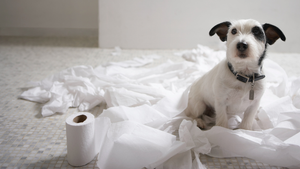 Need to pop out and leave your dog unattended?
Do the W'ZIS scatter and go.