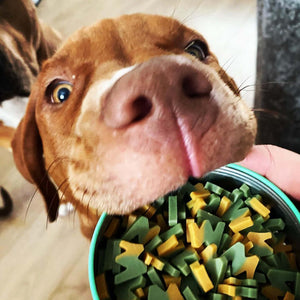 Healthier & Tastier
Sweet potato flour isn't the cheapest ingredient. But it's the healthier option, something that cheaper pea flour just can't match
SHOP HEALTHY TREATS

These treats must be delicious - Fig loves them! They are so low in calories that I can use them in training without the worry of her gaining extra weight.
Anne & Fig

Porkchop is diabetic and it's difficult finding tasty treats that support his health needs. It's a treat for human and pooch! I enjoy the puns while he chows down.
Alex & Porkchop
Betsy absolutely loves W'ZIS treats, she's struggled with being overweight in the past so they work out perfect being healthy.
Karen & Betsy
Frequently Barked Questions:
What are the flavours?

Postman & Roast is a smoky bbq flavour. Made with tomato, pumpkin and sweet potato. Smells like Frazzles.

Lamp Post & Chips is a subtler fruity flavour. Made with purple sweet potato and pumpkin.

Slipper & Biscuit is Broccoli, Apple and Peanut Butter flavour. For mutts that love nuts.

We named our treats after W'ZIS O.D (original dawg) Greta's favourite things.
Can I give W'ZIS to dogs with health concerns?

Many of our canine customers have pancreatitis, gluten intolerance, weight management concerns, kidney issues, allergies and sensitive tummies.

As our treats are grain free, light on purine, low in purine, low fat, sugar free and plant based - they are suitable treats for dogs with a variety of health concerns.

However, you will always need to consult your vet if you have any doubts.
What is W'ZIS made from?

Our treats are made from sweet potato, pea flour and pumpkin - and then uniquely flavoured with other fruits & veggies.

100% natural, with absolutely no nasties.

Check out the ingredients list on each product page for further information.
How do you say W'ZIS?

What's this? Wha-zis? W'ZIS?!

It's the treat brand your dog's already heard of.
Is W'ZIS suitable for puppies?

Yes, pups from 4 months old can become certified W'ZISers.
Is W'ZIS suitable for big dogs?

Yes!

Our treats may be little, but the unique texture and angular W profile gives them a longer-lasting chew, making them suitable for chops great and small.