Nutty Dubya Groove
Tax included
Shipping calculated at checkout
Free shipping on all orders over £19.50
Dispatched within one working day
The Nutty Dubya Groove has a greater capacity to hold dog-approved pastes. On its own, the groove gives them something to stick their teeth into. Smear it with dog-friendly peanut butter or cream cheese for added pooch satisfaction.
Details

What's a W'ZIS Dubya Groove? Well, it's a 'W' shaped chew, and it has a groove in it – no poop Sherlock. The Groove's primary function is to aid your pooch's ability to pick it up. The second is an aperture for carrying an additional treat. Load it up with dog-friendly cream cheese or peanut butter, and your friend for life is about to submit a request to The Palace regarding your long-overdue knighthood. During our very scientific tests, this is the one that drove the W'ZIS doggos to distraction: Greta buried it, Marmite's (and we're not kidding) eyes turned a piercing red, ready to emit a searing death-ray to any potential threat. So BEWARE, it's a treat to be taken seriously.
Ingredients

Composition: Sweet Potato Flour 38.90%, Pea Flour 35.00%, Vegetable Glycerin 8.50%, Peanut butter (Xylitol free) 5.00%, Calcium Carbonate 5.00%, Dried Brewers Yeast 3.50%, Dried Pumpkin 3.00%, Sunflower Seed Oil 1.00%, Potassium Sorbate (natural preservative 0.10%)

Analytical constituents: Protein (min) 1.50%, Fat Content (min) 1.00%, Crude Fibre (max) 3.50%, Crude Ash (max) 5.00%, Moisture (max) 16.00%
Info

Vegan — 100% natural
Grain Free
4 chews (lrg dog)
Box size: 112mm(w) x 148mm(h) x 70mm(d)
Chew size: Approx. 135mm x 20mm
Chew weight: 32.5g sml, 65g lrg
Weight: 260g
Reviews

(2)
Where can I buy W'ZIS?
How many calories are in your treats?

Our small 'W' treats are just 1 calorie each meaning you can reward generously.
Are your treats suitable for dogs with dietary issues?

You will always need to consult your vet if in doubt but generally our treats are popular with dog owners whose pooches have allergies, kidney issues or other sensitivities too food.
How do you pronounce W'ZIS? 

"What's this?" It is what most hoomans say when they treat their dog. It is the treat name that dogs have already heard of.
Can I give W'ZIS treats to my puppy?

We recommend you wait for your pup to reach 4 months (16 weeks).
How long is the shelf life?

We recommend consuming W'ZIS products within 6 weeks of opening as the appealing aroma (to dogs) will start to fade. Due to the very low moisture content, a sealed W'ZIS product will last up to 36 months.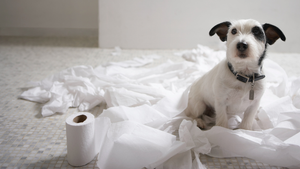 Need to pop out and leave your dog unattended?
Do the W'ZIS scatter and go.