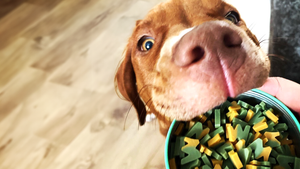 WIN £500 of goodies and become an honorary W'ZISer!

We hope you are enjoying the treats in your VetBox this month! Tell us what you think and you could
Win £500 of W'ZIS goodies and money can't buy prizes.
Trial our healthy dog treats from your VetBox subscription and share your feedback below. You could become our very first honorary advocate!

The winning pooch will be the O.G celebrity canine in our Hall of Hounds, and be the first to receive our new products.
Wow my grain allergic dog is so fussy but she is going MAD for the Lamp Post & Chips treats!!
Yvette
These treats must be delicious - Fig loves them! They are so low in calories that I can use them in training without the worry of her gaining extra weight. The dogs that frequent our local Village green love them too!!
Ann
We are converted! My little Cockapoo loves these, and they are so much better for her allergies than anything else on the market....even a benign looking biscuit has meat derivatives and wheat. These treats are long lasting, healthy and smell delicious. I even ordered for my nephew's Pugs, now he's converted! Let's spread the word and give our doggies the treats they deserve!
Lynnie
After having dogs for 15 years, these are the best treats I have found. No more crumby and smelly pockets or fingers, and no more paying through the roof for healthy natural treats! These are absolutely brilliant. Clean, no mess, reasonably priced, great size and shape and great flavours, even for my picky dog! Smell lovely and come in the coolest tin! Thank you!!
Megan
Myself and our 4 dogs are hooked! I am very fussy about what I feed my dogs and stick with natural healthy treats.

I keep a tin at home, in the car, in our caravan and also at my parents house. I recommend buying more than one tin as it won't be long before you find you need them in multiple places! Caesar, Dylan, Phoebe and Maisie all highly recommend - but ask that you leave plenty for them :)
Lisa