Postman & Roast Tin of Treats
Tax included
Shipping calculated at checkout
Free shipping on all orders over £19.50
Dispatched within one working day
You can't do the W'ZIS rattle without the tin.
Our durable, reusable tin will slip effortlessly into your pocket or purse. Keeping the treats fresh and the smell locked in — or else you'll have more doggy friends than you bargained for.
Contains 50g of product = 100 treats.
Details

Our 100% natural, grain-free, plant-based treats have a deliberately firm texture and angular profile to prolong the eating time and promote teeth cleaning. But you can afford to be generous; these healthy morsels only contain 1 calorie per treat, perfect for training.

What do they taste like?
We have three uniquely named flavours, each with its own identities.

Postman & Roast
W'ZIS pooch Greta can't get enough of postman and lives for Sunday roasts. You won't find a whiff of a postman in here, more like something akin to smokey (vegan) bacon, or should that be smokey facon? The rest is all vegetable goodness; sweet potatoes, pea, tomato, pumpkin and sunflower seeds.
W'ZIS flavour scale: WWW
Ingredients

All of our products are 100% natural and free of all nasties including; meat, grain, postmen, lamposts and slippers.

---

Postman & Roast

Composition: Sweet Potato Flour, Pea Flour, Vegetable Glycerin, Calcium Carbonate, Dried Brewers Yeast, Dried Tomtato, Dried Pumpkin, Sunflower Seed Oil, Potassium Sorbate (natural preservative), Natural Smoked Flavor.

Analytical constituents: Protein (min) 2.50%, Fat Content (min) 0.50%, Crude Fibre (max) 3.50%, Crude Ash (max) 6.50%, Moisture (max) 18.00%
Info

Vegan — 100% natural
Grain Free
1 calorie per treat
100 treats per tin
Tin size: ø85mm x 28mm
Treat size: Approx. 15mm x 10mm
Product weight: 50g
Combined weight: 90g
Reviews

(4)
Where can I buy W'ZIS?
How many calories are in your treats?

Our small 'W' treats are just 1 calorie each meaning you can reward generously.
Are your treats suitable for dogs with dietary issues?

You will always need to consult your vet if you have any doubts, but generally, our treats are popular with dog owners whose pooches have allergies, kidney issues or other sensitivities to food.
How do you pronounce W'ZIS? 

"What's this?" It is what most hoomans say when they treat their dog. It is the treat name that dogs have already heard of.
Can I give W'ZIS treats to my puppy?

We recommend you wait for your pup to reach 4 months (16 weeks).
How long is the shelf life?

We recommend consuming W'ZIS products within 6 weeks of opening as the appealing aroma (to dogs) will start to fade. Due to the very low moisture content, a sealed W'ZIS product will last up to 36 months.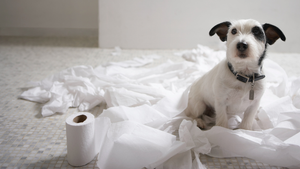 Need to pop out and leave your dog unattended?
Do the W'ZIS scatter and go.